作为立陶宛两家重要交响乐团的所在地,有必要建立一个新的顶级场馆,其音响效果要达到维尔纽斯这一段时间以来所缺乏的全球标准。Studio makal回应了这个提议,在高架场地中间新建了一个国家音乐厅。音乐厅位于维尔纽斯市中心的tauras山,在城市景观中具有显著的特色。对当地人来说,这座建筑是一个很受欢迎的地方,高耸于工会大厦所在的城市之上。
as home to lithuania's two key symphony orchestras, there was a need for a new premier venue with global standards in acoustics that vilnius lacked for some time. studio makal responded to the proposal with a new national concert hall amidst the elevated site. the concert hall is located on tauras hill in the city center of vilnius and features prominently within its urban landscape. a popular destination for locals, the building towers over the city where the trade union palace currently stands.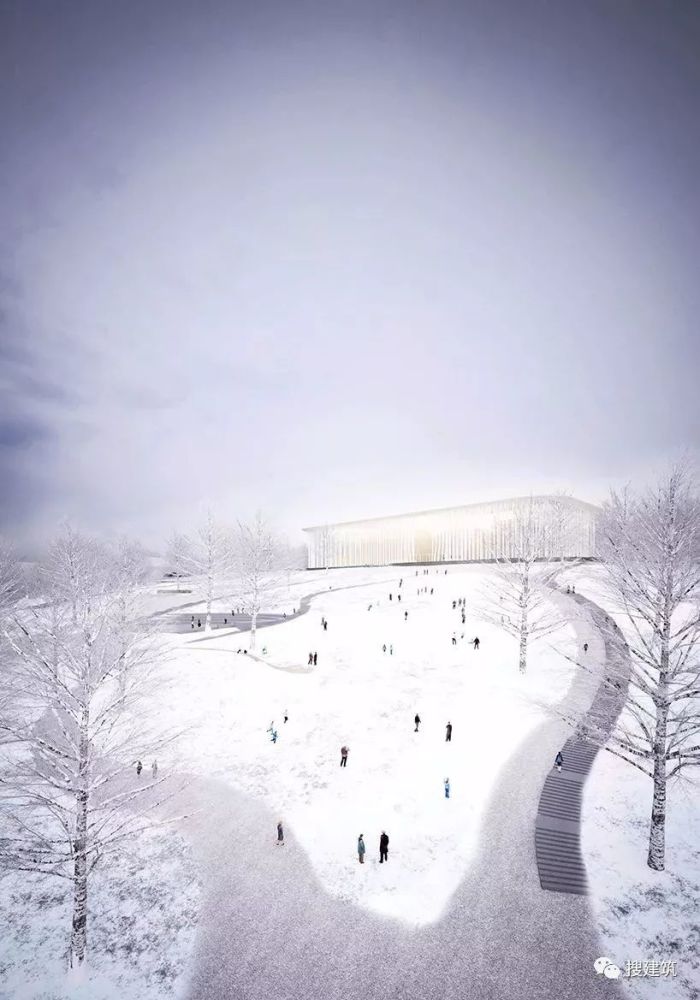 Studio makal的提案是为了庆祝立陶宛人在国家建设的动荡岁月中为自由而奋斗的过程中形成的身份。无数的柱子将主要的建筑形式围起来,营造了一种笼子般的印象,代表了所面临的压迫。
进入大厅的入口通过剥去笼状的圆柱,从严格的重复中抽离,让参观者得以窥见立陶宛人民多年来酝酿的激情。
studio makal's proposal celebrates the lithuanian identity formed through the crucible of their struggles for freedom across the turbulent years of nation-building. numerous columns enclose the main building form to create a cage-like impression, representing the repression that the nation faced. the entrance into the hall is formed by peeling away the cage-like columns, pulling away from the strict repetition to allow visitors to peer into the passion of the lithuanian people incubated over the many years.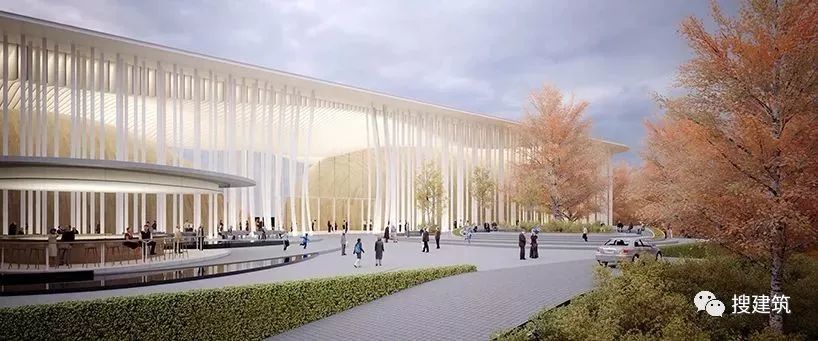 内部的两个穹顶容纳了表演大厅,代表着人们从束缚中解放出来的萌芽的创造力和活力。考虑到公共领域(前维尔纽斯evangelical cemetery 和lukiskes广场)的重要性,该方案加强了两个领域之间的联系动脉和视觉连接。这种不间断的连接由公共空间(如操场和咖啡馆)提供支持。
the two domes within, housing the performance halls, represent the budding creativity and energy of the people to be freed from their restraints. in recognition of the significance of the public realms (former vilnius evangelical cemetery and lukiskes square), the proposal reinforces the connection artery and the visual connectivity between the two realms. this uninterrupted link is supported by public spaces such as playground and cafes.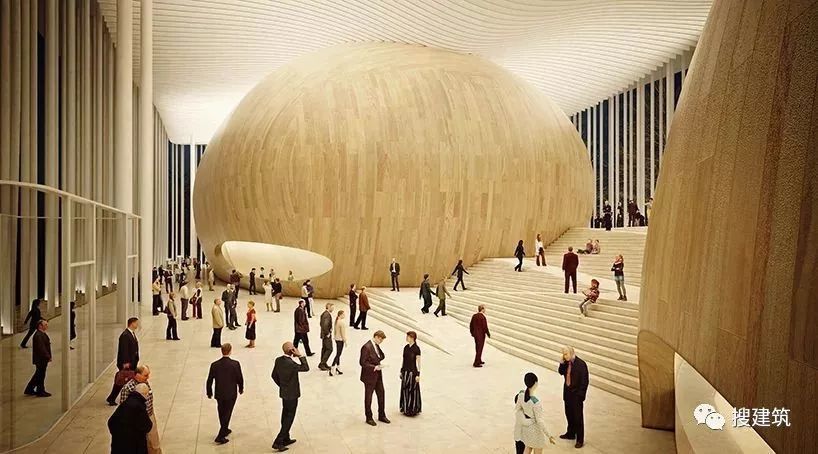 进入后,主大厅被设计成无立柱的,并被用作展览前和展览后的空间。相邻的主音乐厅有一个马蹄形的布局,以获得最佳的音响效果,共有1558个座位,分布在上下两层。另一个剧场是一个可容纳500人的小礼堂,计划举办各种演出,如戏剧、舞蹈作品和全国会议,可伸缩座椅是为了满足各种需求而设计的。
upon entering, the main foyer was designed to be column free, and used as a space for hosting pre and post show. the adjacent main concert hall has a horseshoe layout for best acoustics performance with a total of 1,558 seats that are spread across the lower and upper parterre. the other theater is a a 500-seat small hall, slated to host a variety of performances like theater, dance productions and national conferences. retractable seats are incorporated to cater to a myriad of needs.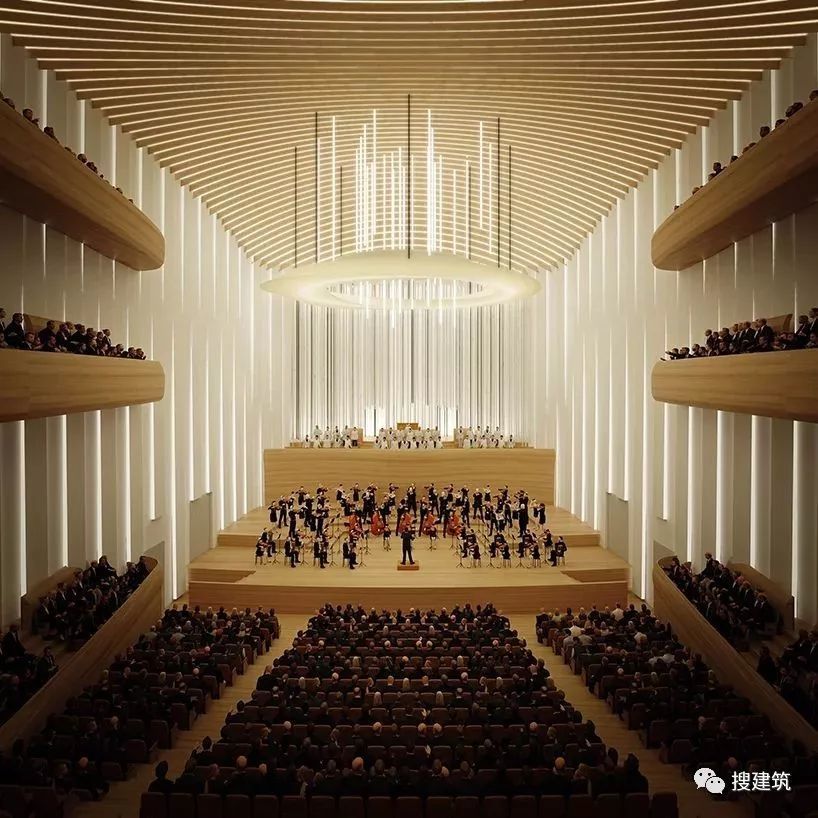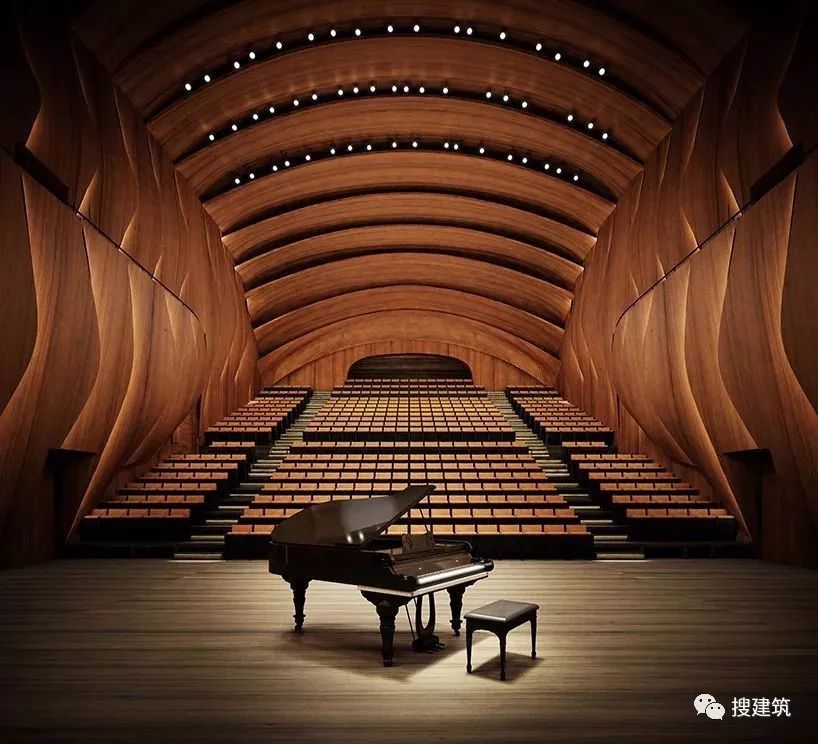 建筑内的咖啡厅位于西侧,以最大限度地利用太阳能,并提供一个舒适的休闲空间。在天气允许的情况下,南方的广场还提供露天就餐服务。拟议的景观以弯曲的道路为特色,这代表了立陶宛人的自由和庆祝其作为一个主权国家的民族身份。
the cafe within the building is strategically located at the west to maximize solar gain, and to provide a pleasant leisure space. the plaza in the south also offers al fresco dining when the weather permits. the proposed landscape feature curved pathways, which represent lithuanian's freedom and the celebration of their national identity as a sovereign nation.
平面图
建筑师:Studio makal
地点:立陶宛 维尔纽斯
推荐一个
最专业的地产+建筑平台
每天都有新内容