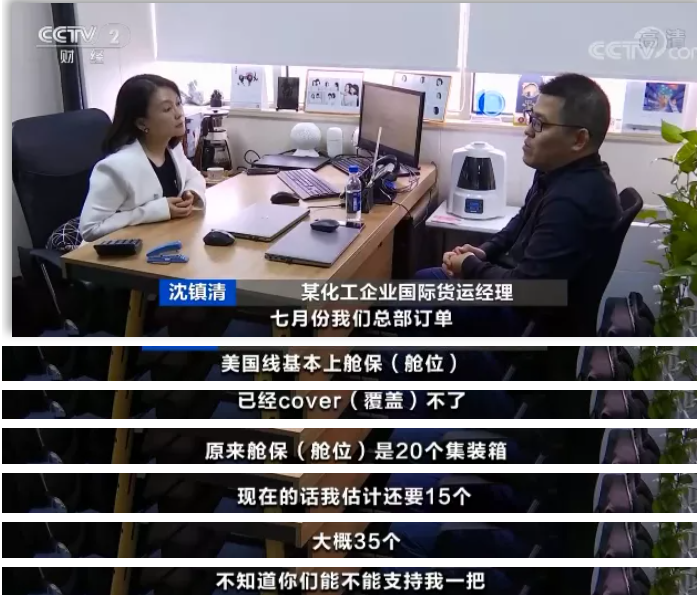 货运发现自己处于一种独特的境地,不可预见的事件导致全球集装箱短缺,这对供应链产生了多米诺骨牌效应,扰乱了全球贸易。
Freight shipping has found itself in a unique situation where unforeseen events have left a global shortage of containers, which has had a domino effect down the supply chain, disrupting global trade.
去年年初,当Covid-19 大流行开始蔓延时,许多国家开始实施全国封锁并停止生产商品,最终阻碍了经济增长。
Early last year, when the Covid-19 pandemic began to spread, many countries began implementing national lockdowns and ceasing the production of goods, which ultimately pulled the plug on economic growth.
航运公司开始减少发出的货船数量。这不仅阻止了通常的进出口货物流动,而且还出现了空箱收不收的情况。
Shipping companies began reducing the number of cargo ships that were being sent out. This not only stopped the usual flow of imported and exported goods, but also saw empty containers not being collected.
为什么该行业面临这种短缺?
那么容器消失到哪里去了呢?大量集装箱发现自己在内陆仓库,而其他集装箱则堆放在货运港口。
So where have the containers vanished to? A significant number of containers have found themselves in inland depots while others have been stacking up at cargo ports.
随着亚洲慢慢开始复苏,其他国家仍面临国家封锁限制,这意味着集装箱无法被送回亚洲(真正需要它们的地方)以继续贸易伙伴关系。锁定规定与其他因素(例如人员短缺)相结合,意味着集装箱积压开始出现。
As Asia slowly began to recover, other countries were still faced with national lockdown restrictions meaning containers could not be sent back to Asia (where they were really needed) to continue the trade partnership. The pairing of lockdown regulations alongside other factors, such as a staff deficit, meant a backlog of containers began to develop.
全球行业巨头失去平衡
许多行业航运巨头,如马士基和赫伯罗特,都受到全球集装箱短缺的严重打击,导致他们调整方法并面临航运挫折。
Many industry shipping giants, such as Maersk and Hapag-Lloyd, have been hit hard by the global container shortage, which has resulted in them adapting their methods and facing shipping setbacks.
Hapag-Lloyd 已将容器重新填充和清空时间比平时快 25%,以确保最佳容器使用。赫伯罗特在调整其容器以用于其他用途时跳出了框框思考。
Hapag-Lloyd has increased container refilling and emptying times to 25% faster than usual to ensure optimal container use. Hapag-Lloyd has thought outside the box when it comes to adapting their containers for alternative uses.
关闭冷藏集装箱可以将鞋子、电子产品或纺织品等干货发送到冷藏需求地点。到达那里后,它们可以被清空并重新开启以继续他们的旅程。
Turning the reefer containers off allows dry goods such as shoes, electronics, or textiles to be sent to reefer demand locations. Once there, they can be emptied and switched back on to continue their journey.
除了这些方法,赫伯罗特公司还考虑重复使用旧集装箱来应对不断增长的需求。
"We are desperately looking for more capacity," he says. "We are asking our customers to return empty containers earlier. We looked at containers that are currently in repair or ones which are meant to be sold because they have reached a certain age.
未来该何去何从?
由于业内没有人拥有预测此问题未来的水晶球,因此已经采取了一些方法来协助全球公司,例如创建新的预订系统。
With no one in the industry having a crystal ball to predict the future for this issue, methods have been put in place to assist companies globally, such as the creation of a new booking system.
阿里巴巴集团旗下菜鸟推出了自己的集装箱订舱服务,可用于空运和海运,以应对全球集装箱短缺的情况。这项服务将跨越 50 个国家的 200 多个港口,旨在减少空集装箱的积压。
Alibaba Group's Cainiao has launched its own container booking service, which can be used for air and sea freight in response to the global shortage of containers. This service will span more than 200 ports in 50 countries and aims to reduce the backlog of empty containers.
马士基是全球最大的集装箱航运公司和船舶运营商,受到集装箱短缺的严重影响,但相信目前的情况很快就会好转。
Maersk, the largest container shipping line and vessel operator in the world, has been significantly affected by the container shortage but believes that the current situation will soon improve.
"展望未来,全球规则制定的透明度是所有市场参与者支持全球贸易的关键。"
"Moving forward, transparency in rule-making globally is key for all market players to support global trade."
Covid-19 的全球短缺和影响使该行业处于不确定的水域。然而,容器可用性正在逐渐增加,而某些瓶颈的拥塞正在减少。随着时间的推移,该行业希望看到改善。
The global shortage and impacts of Covid-19 have left the industry in uncertain waters. However, container availability is gradually increasing while congestion is reducing in certain bottlenecks. As the year progresses, the industry hopes to see improvement on the horizon.
1.跨境物流智能服务平台百运网
2.货代社群
3.货代专业知识
4.招聘货代销